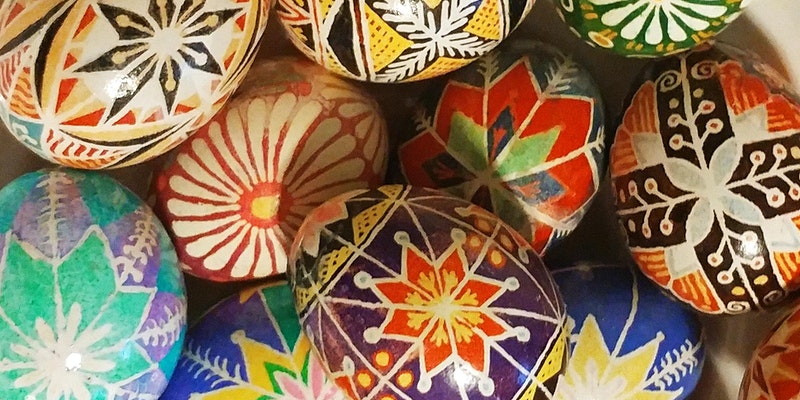 Designing Pysanky (Ukranian Eggs) with Stephen Herchak
The Easter holiday may have passed, but perhaps you're ready to consider something different for next year rather than the "standard" egg dying we've come to know. Or maybe you're looking for a creative way to celebrate Spring. Local artist Stephen Herchak will guide participants through techniques for creating Ukrainian Easter eggs known as Pysanky. These eggs are decorated with traditional Ukrainian folk designs using a wax-resist method like batik. The verb pysaty means "to inscribe," describing how the designs are not painted onto the egg, but rather drawn onto the surface in melted beeswax with a stylus called a Kiska. Participants will be able to take their wax and stylus home.
Materials provided. Space is limited due to social distancing safety measures, so register early.
**At this time we are limiting workshop sizes to meet CDC recommendations for social distancing. There will be no sharing of materials. Hand sanitizer will be available to all participants and the workshop space will be cleaned before, during, and after the workshop. We ask that all participants adhere to the 6′ social distancing policy and wear a face covering (per City ordinance).**
Creative Arts Workshops
The City of North Charleston's Cultural Arts Department invites participants age 18 and up to take part in monthly Creative Arts Workshops led by a variety of local artists. These interactive workshops provide participants with a unique opportunity to learn new techniques in a relaxed atmosphere. Varying skill levels are welcome. Workshops are held on the fourth Saturday of each month from 10:00 am – Noon at Park Circle Gallery (formerly known as the Olde Village Community Building) at 4820 Jenkins Avenue in the Olde Village area of North Charleston (unless otherwise noted). The cost is just $20, which includes most materials. Registration opens the first business day of the month that the workshop takes place and closes two days prior to each workshop. Space is limited.
Visit here for the workshop schedule.