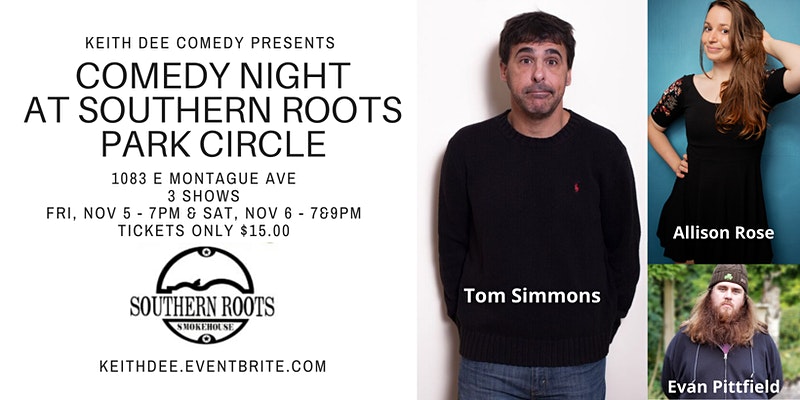 Comedy Night at Southern Roots Park Circle with Tom Simmons
Keith Dee and Southern Roots Park Circle bring you a hilarious night of Stand-Up comedy with Tom Simmons, Allison Rose, and Evan Pittfield
About this event
Keith Big Daddy Dee brings you another incredible night of stand-up comedy with the hilarious lineup up of nationally touring comedians, Tom Simmons, Allison Rose, and Evan Pittfield. Buckle up for this high-energy blast of hilarity. The Wicked Weed Stage at Southern Roots Park Circle, designed for comedy shows, promises a great night of laughs.
There are three shows, one Friday at 7 pm, two Saturday at 7 and 9. Make sure you and your friends get tickets for the same show. Trust me, it happens.
Southern Roots Park Circle has a full dinner and bar menu. You can come early and stay late and hang out in the bar area. There will be full service in the showroom as well.
These shows start on time and usually sell out. Please arrive early and choose your seats. Large groups that show up late may not be seated together. Every seat has a table or bar for your food and drinks.
About our comedians:
Headliner Tom Simmons is a comedian that many find hilarious and some, of course, do not. He is a writer on The Ms Pat Show. Credits include five comedy albums that are heard regularly on Sirius/XM. He has a Dry Bar Comedy Special and has appeared on Comedy Central, Comedy.TV, Comics Unleashed, Showtime, BET. A winner of the San Francisco International Comedy Competition. Comedy Festival appearances at Just For Laughs, Aspen, Laughing Skull and Boston.
Tom Simmons has been unable to write a solid bio for twenty-three years.
But he's good at comedy. Come see him do that.
Allison Rose is an NYC comedian, writer, and photographer. Born on a quiet farm in Kansas, she came into her own on the loud stages of Denver dive bars. She isn't afraid to discuss anything on stage, and her thoughtful but unabashed honesty casts a new light on these still pretty weird times. She has been featured on the Red Clay, 208, Savage Henry, and Yuck Fest comedy festivals. She is a regular at Comedy Works in Denver but currently resides in Brooklyn where she hosts the NYC edition of We Still Like You and a comedy roast show called We're Not Sweet. You can catch her performing in bars, basements, bodega backyards, comedy clubs, and porches all across the country.
Evan Pittfield is energetic yet lazy, analytical yet relatable, absurd yet witty, exaggerated yet precise, surreal yet accessible, laid back yet engaging, passionate yet tired, but most importantly Evan is in love with cats and making people laugh!!! Evan is overweight
Keith Dee is the biggest independent, stand-up comedy show producer in the Lowcountry. He produces comedy shows all over the Greater Charleston area. His high-quality shows feature celebrity and world touring comedians as well as local and regional talent. You will be glad you came to this show.