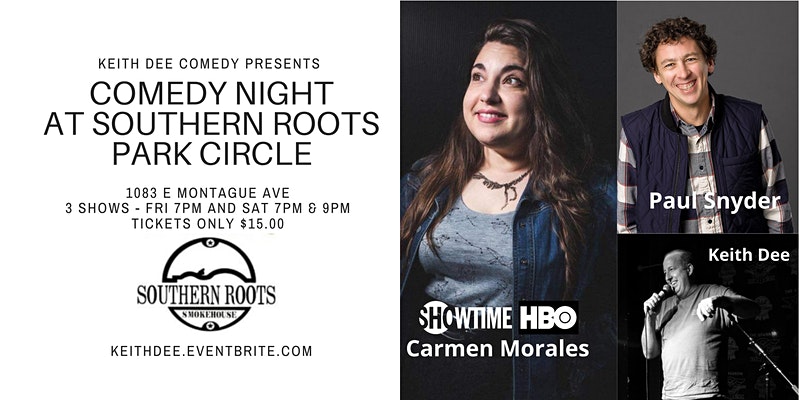 Comedy Night at Southern Roots Park Circle with Carmen Morales
Keith Big Daddy Dee brings you another incredible night of stand-up comedy with the hilarious lineup up of nationally touring comedians, Carmen Morales (HBO, Showtime) and Paul Snyder. Buckle up for this high-energy blast of hilarity. The Wicked Weed Stage at Southern Roots Park Circle, designed for comedy shows, promises a great night of laughs.
There are three shows, one Friday at 7 pm, two Saturday at 7 and 9. Make sure you and your friends get tickets for the same show. Trust me, it happens.
Southern Roots Park Circle has a full dinner and bar menu. You can come early and stay late and hang out in the bar area. There will be full service in the showroom as well.
These shows start on time and usually sell out. Please arrive early and choose your seats. Large groups that show up late may not be seated together. Every seat has a table or bar for your food and drinks.
About our comedians:
Carmen Morales has a captivating style that incorporates opinionated quick wit and outlandish ideals. Taking from family, friends and people from everyday encounters, she transforms personal experiences into hilarious commentary which leaves the audience doubled over in laughter. With a perfect combination of assertiveness, like-ability and vulnerability she has been well received by audiences internationally. She's been seen on Showtime, IFC, HBO Latino, Freeform, Hulu and The World Famous Comedy Store in Los Angeles regularly. She's been heard on Netflix is a Joke on Sirius XM radio, on The Church of What's Happening Now with Joey Diaz, Getting Doug with High, & on her own hit podcast, "No Sir I Don't Like it." She's also headlined the San Diego Comedy Festival, Altercation Comedy Festival, Scruffy City Comedy Festival, and been featured in the New York Times. She has produced her own traveling comedy show, as well as performed in comedy clubs, colleges, military bases, strip malls, indie shows, dive bars, towns no one has ever heard of across the country.
Paul Snyder is an emerging comic who performs his brand of humor across the Carolinas. He was a finalist in the Jeanne Robertson Humor Competition, and recently won the Jokes Out Loud "I'm Ready" Competition at the Comedy Zone in Greenville, SC. He's a lovable introvert that has performed with Dusty Slay, Carlos Mencia and Shaun Jones.
Keith Dee is the biggest independent, stand-up comedy show producer in the Lowcountry. He produces comedy shows all over the Greater Charleston area. His high-quality shows feature celebrity and world touring comedians as well as local and regional talent. You will be glad you came to this show.