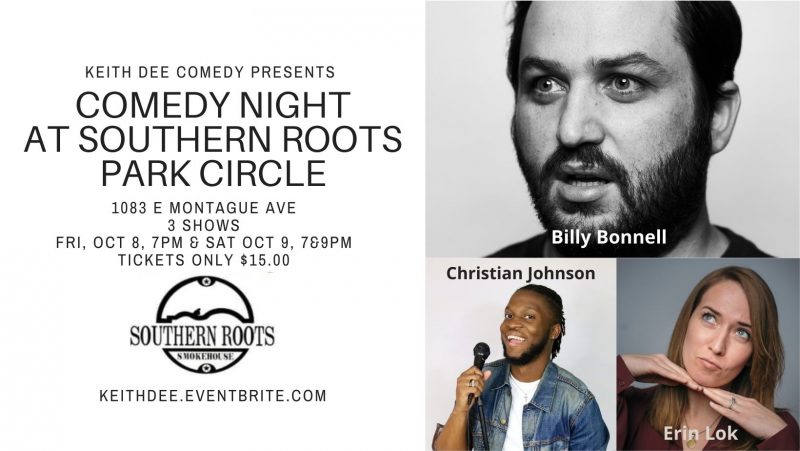 Comedy Night at Southern Roots Park Circle with Billy Bonnell
Comedy Night at Southern Roots Park Circle with Billy Bonnell, Christian Johnson and Erin Lok
Keith Big Daddy Dee brings you another incredible night of stand-up comedy with the hilarious lineup up of nationally touring comedians, Billy Bonnell, Christian Johnson, and Erin Lok.
Buckle up for this high-energy blast of hilarity. The Wicked Weed Stage at Southern Roots Park Circle, designed for comedy shows, promises a great night of laughs.
There are three shows, one Friday at 7 pm, two Saturday at 7 and 9. Make sure you and your friends get tickets for the same show. Trust me, it happens.
Southern Roots Park Circle has a full dinner and bar menu. You can come early and stay late and hang out in the bar area. There will be full service in the showroom as well.
These shows start on time and usually sell out. Please arrive early and choose your seats. Large groups that show up late may not be seated together. Every seat has a table or bar for your food and drinks.
About our comedians:
Headliner Billy Bonnell has been seen on Adam Devine's House Party on Comedy Central, The CW, and AXS TV. He hails from Cleburne, Texas, a town named after a confederate general with a rodeo as city hall, so his views are interesting. He escaped to the military as the only chance to not be a religious weirdo and started Stand-up while serving, then left the Navy after 10 years to pursue comedy full time. Come see what all the fuss is about.
Christian Johnson is a clean comedian from Charlotte, NC. Since 2017 when he started his standup comedy career he's been traveling from city to city and growing his fan base. He has performed in comedy festivals and was named a 2018 residency holder at The Comedy Zone in Charlotte. In his career, Christian has had the pleasure and opportunity to feature for JJ Williamson, Damon Williams, Shaun Jones, Nikita B, and host for Ali Siddiq and Damon Wayans. He has also opened up for AJ Johnson, social media sensations Shuler King, and The Christi Show, as well as the legendary Sinbad. Christian was also named a semi-finalist in the Kenan Thompson ultimate comedy experience showcase in February 2020. I'm 2021 Christian made his television debut on AFROTV's "Funny Not Famous". Christian Johnson is a rising star with contagious good energy, a unique style, and refreshing clean comedy.
Erin Lok is a South Carolina-based stand-up comedian, improv, and sketch artist. Her unique style of comedy gives the audience a glimpse into how her warped brain works and how she loves poking fun at herself and others… mostly herself. She was proud to be awarded "Best Newcomer" at the Lady Laughs Comedy Awards. Erin was a finalist in the Cheap Comedy Festival and a feature performer at the NY Underground Comedy Festival and International Lady Laughs Comedy Festival.
Keith Dee is the biggest independent, stand-up comedy show producer in the Lowcountry. He produces comedy shows all over the Greater Charleston area. His high-quality shows feature celebrity and world touring comedians as well as local and regional talent. You will be glad you came to this show.