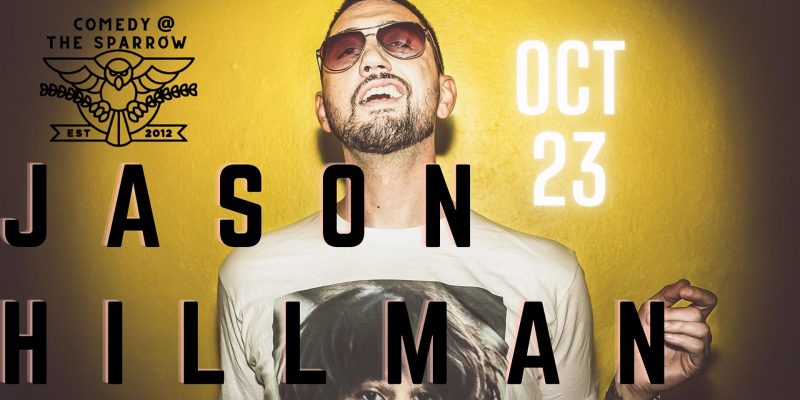 Comedy at The Sparrow with Jason Hillman
Jason Hillman (ON TOUR NOW) is an award-winning writer, actor, photographer, stand-up comic and all-around clear case of unaddressed ADHD. Since 2013, Jason has toured all over the United States and is a festival favorite, appearing at LaughFest, The Great American Comedy Festival, The Orlando Indie Comedy Fest, The Milwaukee Comedy Festival, and Madison Comedy Week. He was the first man to appear at The Lady Laughs Comedy Festival as well as being a featured performer at PRIDEfest 3 years running. He was also a finalist in Kenan Thompsons Ultimate Comedy Experience as well as auditioning for Just For Laughs 4 times. They keep reminding him that he's funny but probably too old.
He has also taught and performed comedy at multiple prisons.
In between all of this, he also self-produced his own full-length comedy album, WOKE MENACE, Or How I Stopped Worrying and Learned to Love Impotent White Male Rage.
He's written for Huffington Post, Thought Catalog, Static Multimedia, the satire site Queer Coded, and a bunch of ephemeral culture vulture sites that no longer exist. Those are mostly not his fault.
He is a creator and cohost of TOBEY! TOBEY! TOBEY!, a show that maybe has a little too much love for Tobey Maguire. ON SPOTIFY NOW.
He is also active in theatre and has written, produced, and starred in many productions, including the nationally touring "PIECES: IN MY OWN VOICE," a theatrical production exploring the anguish of mental illness.
He is active in Crisis Intervention Training, working with police and corrections officers across the country on how to approach situations involving those in crisis with empathy and support.
Honestly, it's a lot.