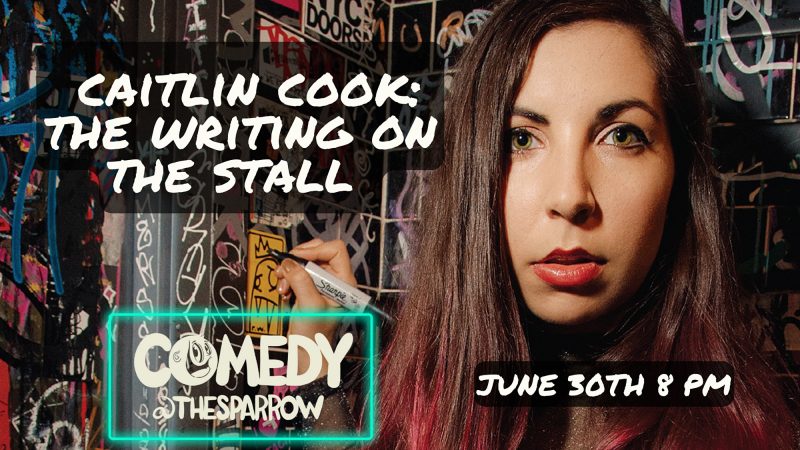 Caitlin Cook: The Writing On The Stall
Caitlin Cook's (SiriusXM, Comedy Cellar) raucous new hour of comedy, music, and visuals. Uproariously funny and LIVE at Comedy@The Sparrow!
Caitlin Cook is an LA-born, NYC-based comedian. Not your conventional stand-up, Caitlin Cook combines witty one-liners and scintillating storytelling with hilariously irreverent musical comedy and projected visuals. Cook has released two successful musical comedy albums: Betty Pitch, which she recorded after writing 250 songs a day during the pandemic, and Zinger-Songwriter, which she recorded at 12 different venues while on tour across the US and UK. Aside from recording albums and performing at festivals, Cook also produces live comedy events around NYC including Good God at the Sultan Room in Bushwick (with Shane Torres, Tom Thakkar, and Phoebe Bottoms) and Fake Birthday at Littlefield in Gowanus (with A.J. Holmes). She has taken the stage all across the US, Canada, Europe, and Oceania at top-tier theatres (like the Dolby Theatre in Los Angeles, Webster Hall in New York, and Thalia Hall in Chicago), comedy clubs (the Comedy Cellar in New York, ACME in Minneapolis, Comedy Works in Denver, and the Stand in Edinburgh), festivals (like the New York Comedy Festival, HBO's Women in Comedy Festival, and High Plains Comedy Festival), dimly lit bar basements, strangers' living rooms, and even a houseboat once.