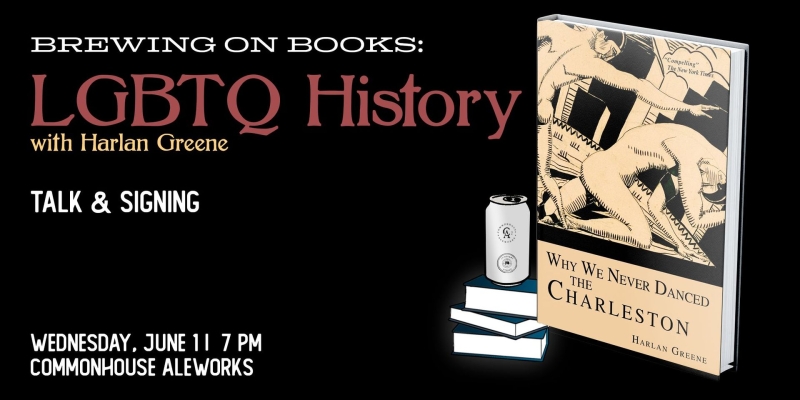 Brewing on Books: LGBTQ History in Charleston
Author Harlan Greene joins us for the second year to discuss Charleston's LGBTQ history as part of the Park Circle Gay Pride Festival
Join us for a community discussion held on the Common Ground with Commonhouse Aleworks as part of our event series Brewing on Books: A Community Book Club. This series focuses on local topics of interest for community members.
For Park Circle's annual Gay Pride Festival, we're hosting author Harlan Greene for a discussion of the little-known LGBTQ history in Charleston. Greene's fiction work Why We Never Danced the Charleston will be featured along with an array of LGBTQ titles from our curated shelves. Food and drink specials from Commonhouse forthcoming!
Cheers!
About the Book
The scene is Charleston, South Carolina; the time, the 1920s, when old ladies dream of the past and a strange new dance, "the Charleston," is seducing the youth of the city. Years later, whispers emerge of something baffling and tragic that happened back then. As an old man confronts those demanding the truth, we catch brilliant flashes of the confrontation between the dark, doomed Hirsch Hess, son of immigrants, and the fantastically ethereal Ned Grimke, a scion of the city.
Told in intoxicatingly beautiful prose, this story of passion, beauty and the deadly effects of sexual repression takes us to a specific time and place, yet simultaneously blossoms as a universal tale of the human heart in conflict with its era.
About the Author
Harlan Greene is author of the novels Why We Never Danced the Charleston, What the Dead Remember and The German Officer's Boy. His non-fiction works include Charleston: City of Memory (with photographs by N. Jane Iseley), Mr. Skylark: John Bennett and the Charleston Renaissance and Slave Badges and the Slave-Hire System in Charleston, South Carolina, 1783-1865 (with Harry S. Hutchins Jr. and Brian E. Hutchins). With James Hutchisson, he co-edited Renaissance in Charleston: Art and Life in the Carolina Lowcountry, 1900-1940.