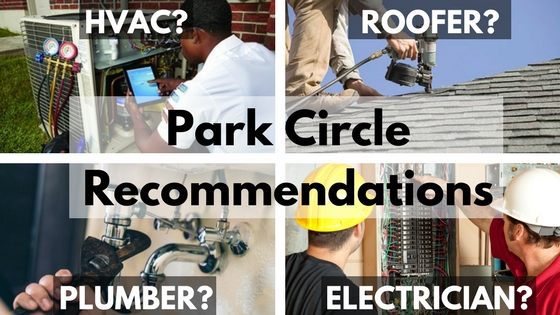 Park Circle Home Services Recommendations
One of the best places to get recommendations for all kinds of home services like plumbers, roofers, electricians, etc. is from your own neighbors. One place that people turn to here in Park Circle is the "Park Circle Chatter" group page on Facebook. Every day you're likely to find a resident searching for recommendations on who's the best person to call to install a new roof or fix a plumbing issue and the comments will be filled with neighbors providing their experience with different companies. You can imagine that with so many different recommendations, it can get a little confusing.
If only there was one place where you could go where all of that information was compiled into one simple to utilize page! Well, look no further, because here it is! This list was compiled by searching individual services on the Park Circle Chatter page, ie. Plumber, Electrician, Roofer, and I would notate every recommendation a neighbor suggested with an "x," then see who was most mentioned.  This list is not my opinion, but the opinions of our neighbors, so it's probably best to make sure who you call, is licensed and professional.
When choosing who to use to fix your HVAC system, wouldn't you want to go with the person most people have recommended in the past?
If I have missed anyone, or if you have had a particularly good experience with someone, please feel free to add your thoughts in the comment section below!
Electricians
xxxxxxxxxx Joe Gethers – (843) 200-8797
xxxx Leigh Garrard – Garrand Electric – (518) 353-3646
xxxx Shawn Morris – (843) 478-3945
xx Sandlin Electrical, LLC – (843) 640-5537
xx Victor Ceron – (843) 814-6165
x Sievert Electrical – (843) 906-9876
x Cooper Electric – (843) 200-3010
x Chip York – (843) 670-4294
x Tommy Russell – (843) 819-2572
x Electric Supply Co. – (843) 740-1710
x Mike Payne at Payne Electrical – (834) 200-7803
x David – (843) 693-0713
x Henry – (843) 209-2366
x Statum Electrical Services – (843) 697-4789
x Scott bell – (843) 901-4851
Plumbers
xxxxxxxxxxxxxxx James Harrington, Harrington Plumbing, Inc. – (843) 881-0565
xxxxxxxxxxxxxxx Josh Carpenter – Priority Plumbing – (843) 714-4017
xxxxxxxxxxxxxx Brandon Ellis ‭- (843) 425-5510‬
xxxxxxxxxxx Blitch Plumbing – (843) 795-9674
xxxxxxxxxx Tony Seely – ‭(843) 303-4153
xxxxxxx Adam Flaherty – Professional Plumbing – (843) 499-0174
xxxxx ASAP plumbing – (843) 557-9486
xxxxx Binder Plumbing – (843) 766-8887
xxxxx Michael Singleton – Mike's Produce and Plumbing Repair – (843) 571 – 4254
xxxx Wally Wallace – (843) 518-8786
xxx Roto Rooter – (843) 556-4320 – Mainline blockages
xxx Paul MacMillian Plumbing – (843) 813-3490
xx A-American Plumbing – (843) 797-8790
xx Michael Hodge – (843) 412-9661
xx Jimmy Adams – (843) 509-6670
xx Sadler Plumbing & Gas – (843) 509-4003
xx Preferred Home Services – (843) 619-3030
xx Jon Barrow – The British plumber – (843) 830-0017
x MPH Plumbing – (843) 779-6121
x McKnight Plumbing – (843) 870-5761
x Terry Weese – (843) 696-0704
x Burt Floyd – (843) 514-2812
x Suncoast Plumbing SC – (843) 732-0244
x Grant Mueller – Mueller's Plumbing – (843) 345-7586
x Sean – (843) 296-3817
x Servant Plumbing – (843) 513-8393
x Terry – My friend the plumber – (843) 696-0704
Roofer
xx Port City Roofing – (843) 901-9006
x Richard Fister – (843) 735-2460
x Michael Powers – Big Bear Roofing – (843) 819-7650
x Matt Woodford – Crosstown construction – (843) 330-9060
x Silverline Roofing – (843) 810-9635
x Brett Alan Morris – Contract Exteriors – (843) 357-9234
HVAC
xxxxxxx Gary Huebner – Reality Heating and Air – (843) 200-7274
xxxxx Peter Gaskins – Southern HVAC Services – (843) 607-4804
xxxx Rick Dangerfield – Quality Heating and Air – (843) 532-6752
xxx Kenneth Eppinger – Customer's Preference – (843) 557-5446
xxx Sing Heating and Air – (843) 744-8211
xx Bryan Hunter – Service First HVAC – (843) 442-0063
xx Louis – Alliance Mechanical – (843) 696-7641
xx Dave McMillan – (843) 224-2347
xx Carolina Air Care – (843) 771-3315
xx Barrus Heating and Air – (843) 871-1030
xx Preferred Home Services – (843) 619-3030
x Charleston Heating and Air – (843) 216-9966
x David Hogrefe – (843) 303-3912
x Mike May – Regent Heating and Air – (843) 991-4449
x Justin Hunter – Just-in-time Residential HVAC & Appliance Repair – (843) 826-7409
x C C Meyers – (843) 881-7588
x Berkeley Heating & Air -(843) 747-6700
x Brian – Mills Brothers – (843) 764-1919
x Mike Derita – Holycity Mechanical – (443) 723-6788
x Robert – Elite Air – (843) 609-3648
x Tom – (843) 530-2759
x Old Towne Heating and Air – (843) 856-1433
Painters
xxxxx Michael Mazza – Your Pro LLC – (619) 302-6883
x Scott Burke, Stacie Morgan – SS Interiors – (843) 597-1647
x Jose Moreno – (843) 343-4428
x 5 Star Painting – (843) 277-1429
x A-1 Drywall & Painting LLC – (843) 345-0844
x Charleston Paint Masters – (843) 224-0085
x Jason Ricker – On a Roll Painting Look the Best on the Block – (843) 637-0605
x Kyra Reese – Reese Painting – (843) 990-0661
x Matt Miller, Chucktown Paint Guy – (843) 209-9429
x Will Hegler – (843) 870-9389
x Felipe – (843) 566-5140
General Contractor
xxxxx Michael Mazza – Your Pro LLC – (619) 302-6883
xxxx Matt Woodford – Crosstown Construction – (843) 330-9060
xx New Beginnings Construction – (843) 789-4604
xx Donald Beck – (843) 469-4314
x Trey Strock – Strock Design & Remodeling – (843) 566-0250
x Chris Brace – Brace Builders – (843) 557-9003
x Todd Frazier – New Age Contractors – (843) 830-6933
x Travis Spell – (843) 834-2778
Floor Refinishers
x Edgar (843) 514-5475
x Browns Hardwood Flooring – (843) 460-8606
x Maddray flooring – (843) 452-9229