The Ashley Forest neighborhood is located in the heart of West Ashley.   A highly desirable neighborhood, Ashley Forest is close to downtown Charleston as well as trendy Avondale restaurants and bars that line Savannah Highway.  About 145 homes sit on decent sized lots, all built in the 1940's and 50's.  With the age of the homes,  square footage or around 1,200 – 2,000 sq ft. is common.  If you are looking for a quiet neighborhood that is family friendly, yet still offers the ability to be close to entertainment options, then Ashley Forest is a wonderful place to call home!
The Ashley Forest neighborhood is bounded on the South by Savannah Highway, to the west by Magnolia Rd., the North by Live Oak Avenue, and on the east by Tall Oak Avenue.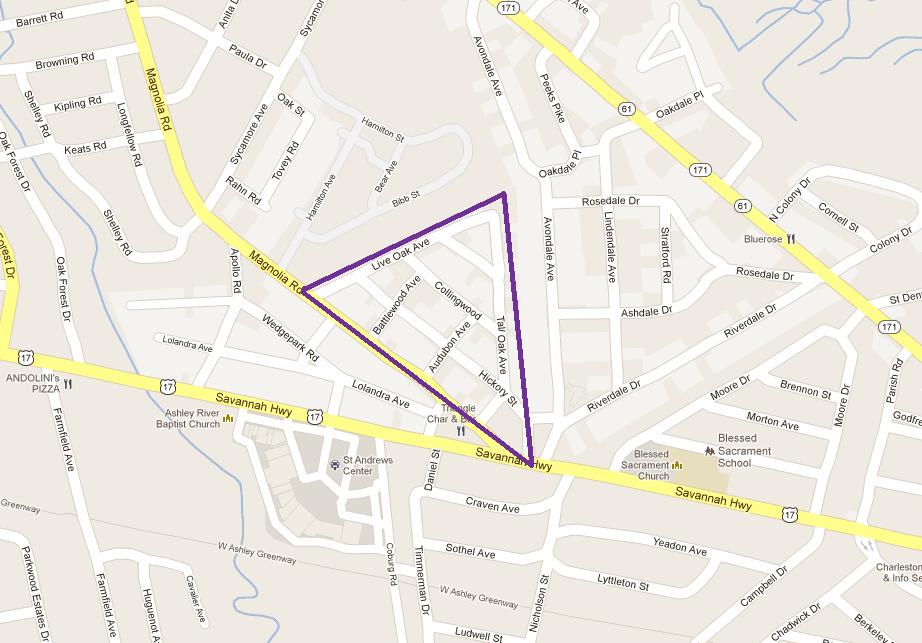 Ashley Forest is a stable community and has few homes for sale because of its popularity with home buyers who seek to be close to Charleston, Beaches, Shopping and Restaurants.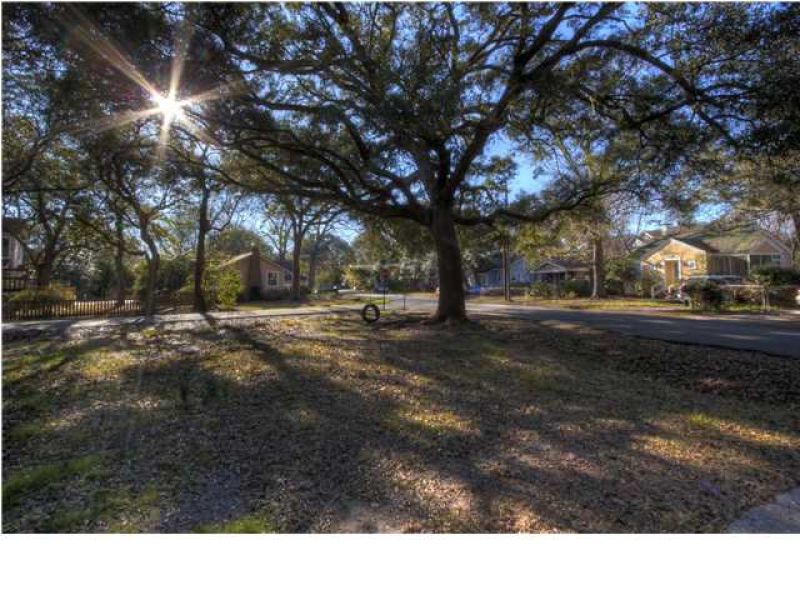 LIVE (Home prices & proximity to everyday conveniences)
Homes:
The home values range from the low $200,000's for a fixer up to nearly $250,000 making it an extremely affordable option.
Grocery Stores:
Harris Teeter – 0.3 mi
Earth Fare – 0.9 mi
Piggly Wiggly – 1.3 mi
Publix – 2.0 mi
Gas Stations:
Little Cricket – 0.5 mi
BP – 0.8 mi
Exxon – 0.9 mi
Dry Cleaning:
Lyerly's Cleaners – 0.4 mi
Lighthouse Cleaners – 0.5 mi
Post Office:
US Post Office – 0.5 mi
WORK (proximity to business centers, job locations, etc.)
Downtown Charleston – 3.9 mi (approx. 10 min)
North Charleston – 5.7 mi – (approx. 14 min)
Summerville – 26.2 mi – (approx. 31 min)
Mt. Pleasant – 9.0 mi – (approx. 15 min)
PLAY (neighborhood restaurants, shopping and recreation)
Restaurants:
Pearlz Oyster Bar – serving only the freshest seafood in a casual dining atmosphere.
The Roost Bar and Grille – The newest sports bar in Charleston.  Also a University of South Carolina Gamecock hangout!
Al Di La – A Northern Italian Trattoria
Gene's Haufbrau – A wide selection of bottled and draft beer, Gene's is the ultimate neighborhood bar.
Triangle Char and Bar – Grass-fed Beef Burgers & Cold drinks.
Avondale Wine and Cheese – People swear by this place.  It's where you can find artisinal cheeses and wine.
Earthfare – The healthy Supermarket.  Pick up a healthy dinner here before heading home!
Shopping:
St.Andrews Center – 0.5 mi – local shopping with Steinmart and Tuesday Morning,
Citadel Mall – 3.5 mi – A mall with almost everything you need.
Parks & Attractions:
Ashley Forest is a quiet neighborhood, yet it is just a few minutes away from the heart of Downtown Charleston, West Ashley Shopping, Wappoo Cut public boat ramp, local beaches, and much more.  The West Ashley Greenway, which is a great place to bike, walk, or jog, is just across Savannah Highway.
SCHOOLS
Public Schools for Ashley Forest are St. Andrews Elementary, West Ashley Middle School, and West Ashley High School.
[schoolsearch lat="32.784967″ lng="-79.987282″ distance="3″ groupby="gradelevel" output="table"]
If you would like a list of homes currently available in the Ashley Forest Neighborhood fill out my "Free List of Homes by Email" form or view all the homes available in Ashley Forest below!
ASHLEY FOREST HOMES FOR SALE
[spatialmatch_map id=61 width=100% height=600]