Stiles Point, located on James Island is a neighborhood featuring over 200+ homes on over 200 acres of land with a portion of along the banks of the Ashley River.  Named after Benjamin Stiles, a founder of a cotton plantation built in 1741, this convenient community is one of the most desirable locations in Charleston.  One of the advantages of this location is its direct access to downtown Charleston, which is no more than a 5 minute drive on a road with no stoplights!  Residents love the area because of its proximity to amenities such as recreational areas that include a private 5 acre park that includes a basketball court, baseball field, a playground and tennis courts.  If you are interested in spending the day at the beach, Stiles Point is just a 10-15 minute drive to Folly Beach.
Homes in Stiles Point were built in the late 1970's to the late 1990's, in Colonial and antebellum architectural style, of which many have been renovated to accommodate today's modern tastes.  Private pools are also a common feature with many of the homes in this neighborhood.
If you want to live in a home with a water view then Stiles Point Plantation is the location for you.  You will find a number of homes with views of not only the river and harbor, but of the Charleston Peninsula itself.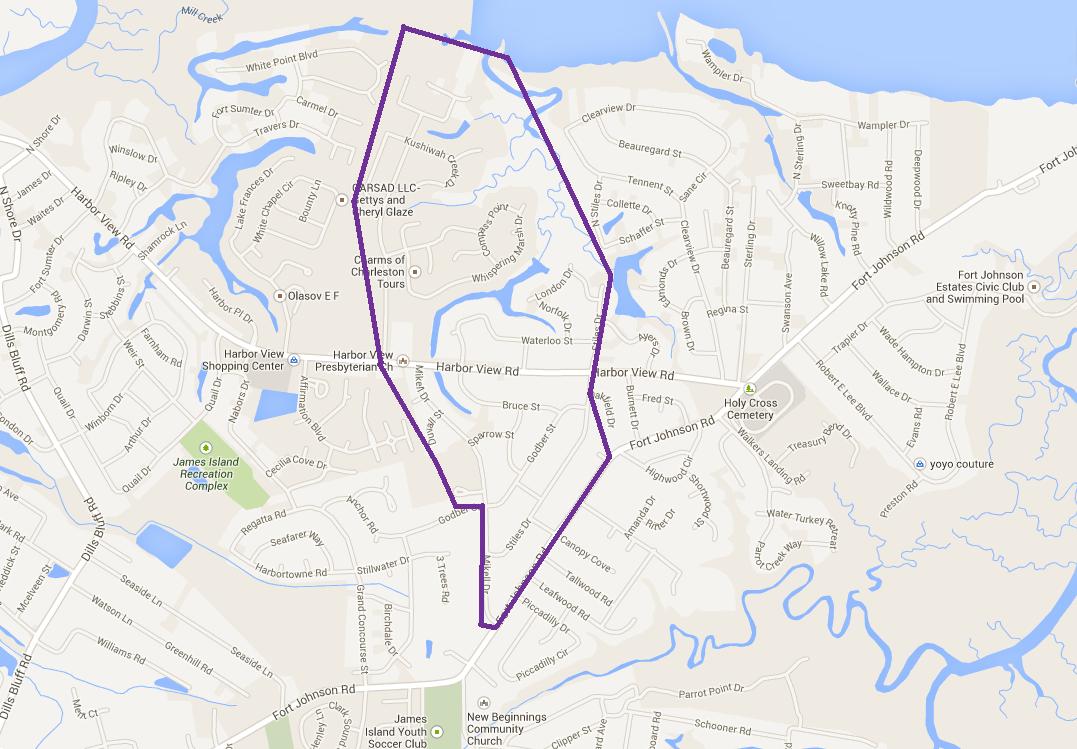 Stiles Point  is located off Harbor View Road on James Island.  Stiles Point Plantation is a left turn off of Harbor View Road on Old Plantation Rd.  If you turn right onto Mikell Dr. you will find older homes with expansive yards, but the same Stiles Point convenience.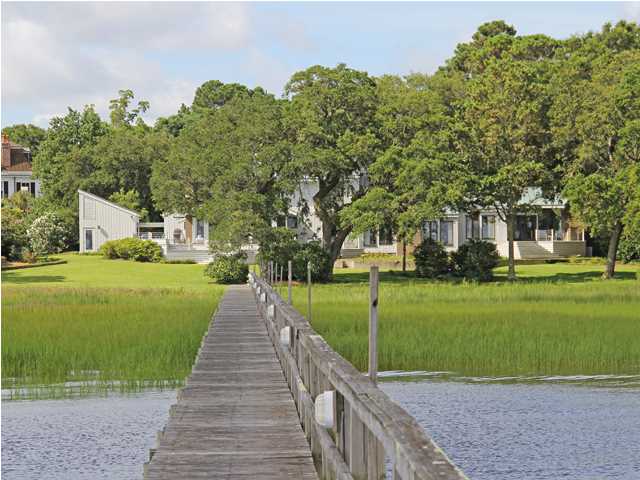 LIVE (Home prices & proximity to everyday conveniences)
Homes:
There are over 200+ properties in Stiles Point with many that have views of the marsh or harbor.  Most homes are priced in the mid $300,000's, with properties overlooking the Charleston Harbor in the $2 million + range.
Grocery Stores:
Piggly Wiggly – 0.6 mi
Bi-Lo – 2.3 mi –
Harris Teeter – 2.7 mi
Publix – 2.9 mi
Gas Stations:
Exxon – 0.5 mi
Li'l Cricket – 0.7 mi
Dry Cleaning:
Town and Country Dry Cleaning – 2.4 mi
Centerville Cleaners – 2.3 mi
Lyerlys Cleaners – 2.8 mi
Post Office:
US Post Office – 2.6 mi
WORK (proximity to business centers, job locations, etc.)
Stiles Point is convenient to all locations:
Downtown Charleston is 5 mi (approx. 10 min) – No stoplights!
Mt.Pleasant – 7 mi (approx. 15 min)
West Ashley – 4 mi (approx. 8 min)
North Charleston – 11.1 mi (approx. 19 min)
Summerville – 30 mi (approx. 38 min)
PLAY (neighborhood restaurants, shopping and recreation)
Restaurants:
Latabella – Pasta, Steak, Seafood (Italian Cuisine with a Southern Twist)
The Sloppy Cow – Neighborhood Burger Joint
Lemon Grove Grill – Mediterranean restaurant with a healthy menu
Smoky Oak Taproom – BBQ at its finest!
Shopping:
Lowe's – 1.5 mi
Walmart – 2.9 mi
Harbor View Shopping Center – 0.7 mi
Parks & Attractions:
Stiles Point is a 5 mile drive to downtown Charleston and 10 miles to Folly Beach. A 5 acre park located at the entrance to the Stiles Point Plantation offers a basketball court, baseball field, children's play area and tennis courts.  Fort Johnson Estates Pool offers access for only $450/year.
SCHOOLS
There are a number of independent elementary, middle and high schools that serve the Stiles Point neighborhood.
[schoolsearch location_title="Stiles Point" lat="32.746625″ lng="-79.928906″ distance="3″ groupby="gradelevel" output="table"]
If you would like a list of homes currently available in the Stiles Point Neighborhood fill out my "Free List of Homes by Email" form or view all the homes available in Stiles Point below!
STILES POINT HOMES FOR SALE
[spatialmatch_map id=79 width=100% height=600]