Riverland Terrace is one of James Island's oldest neighborhoods, with homes built mostly in the 40's and 50's.  Convenience to downtown Charleston is one of its many amenities, making it an ideal location for those employed at the Medical University of South Carolina, or for those who just appreciate being only 5 minutes from downtown Charleston.  The neighborhood is also convenient to many restaurants and shopping areas located in the James Island commercial area located within walking distance of the neighborhood.  Residents of Riverland Terrace are surrounded by an abundance of recreational activities.  If you enjoy water recreation, the neighborhood is surrounded on three sides by the Stono River and the Intracoastal Waterway.  On land, the Charleston Municipal Golf Course offers golfers a challenging afternoon on the links while being surrounded by natural beauty.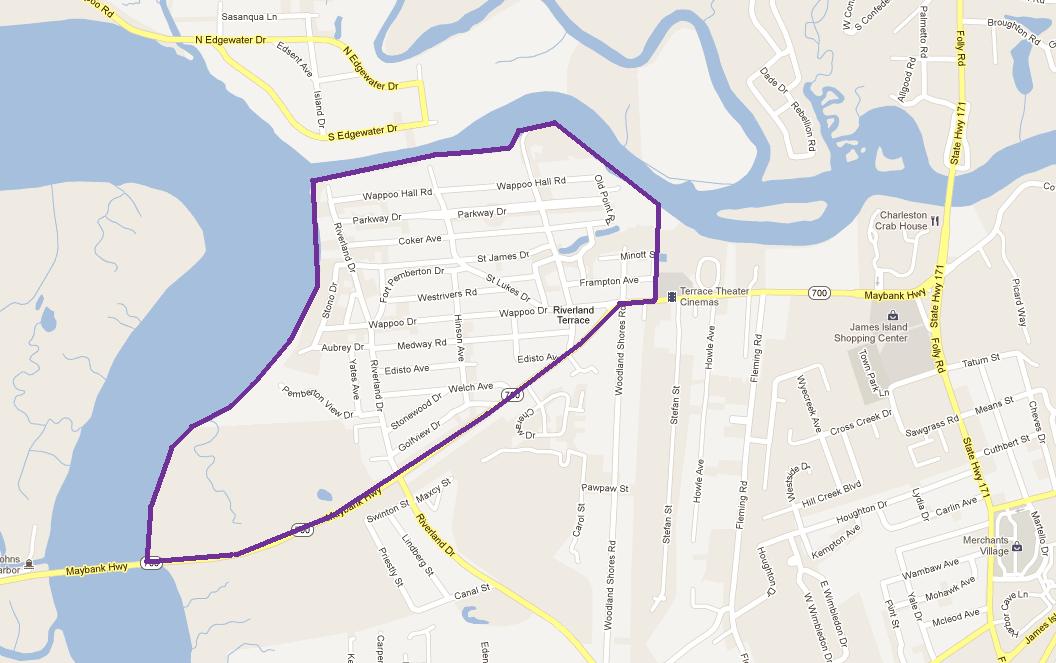 Riverland Terrace homes are typically smaller than average, and are beloved for those who enjoy historic homes or older home designs.  Over the past few decades many developers have built in the Riverland Terrace neighborhood resulting in many different floorplans and home sizes.  Home plans range from 2 bedroom homes to 5-6 bedroom homes, and square footage can range from as low as 800 square feet to over 4,000 square feet.   Lots range from 0.15 acres to a little over ½ acre.  The one thing you will notice while driving through Riverland Terrace is the abundance of oak trees, some as old as 100.   Entertainment is within walking distance, with such notable attractions such as the  Terrace Theater with independent theatrical productions, and live music at the Pour House bar.  Residents also enjoy being in close proximity to many local restaurants like Zia Tacqueria, The Mustard Seed, and the Boulevard Diner.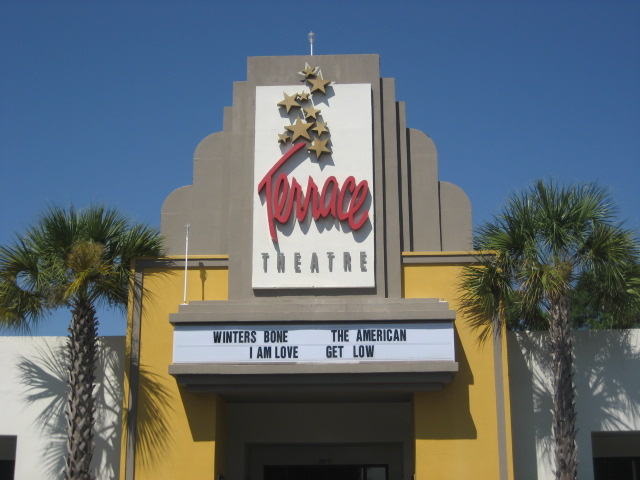 LIVE (Home prices & proximity to everyday conveniences)
Homes:
There are nearly 800 properties in Riverland Terrace and each vary in interior and design.  Most starter homes are priced in the low $200,000's to riverfront locations that are priced at more than $3 million.
Grocery Stores:
Piggly Wiggly – 1.1 mi
Earth Fare – 1.5 mi –
Publix – 1.6 mi
Gas Stations:
Sunoco – 0.4 mi
Exxon – 1.3 mi
BP – 1.5 mi
Dry Cleaning:
Plaza Laundry Matt – 0.5 mi
James Island Cleaners – 1.1 mi
Lyerlys Cleaners – 1.6 mi
Post Office:
US Post Office – 1.6 mi
WORK (proximity to business centers, job locations, etc.)
Riverland Terrace is convenient to all locations:
Downtown Charleston is 5 mi (approx. 10 min)
Mt.Pleasant – 10 mi (approx. 16 min)
West Ashley – 4.1 mi (approx. 8 min)
North Charleston – 8.6 mi (approx. 19 min)
Summerville – 28.8 mi (approx. 38 min)
PLAY (neighborhood restaurants, shopping and recreation)
Restaurants:
Zia Taqueria – Authentic Mexican Taqueria
The Lot – Located at the Charleston Pour House.  Featuring locally sourced meat, veggies and fruit.  The menu changes daily based on what's available!
The Mustard Seed – serving a healthier alternative to burger and fries
How Art Thou Cafe – Cafe, Juice and Wine Bar
Boulevard Diner – Good Southern comfort food
Shopping:
Citadel Mall – 3.4 mi
St. Andrews Center – 1.3 mi (Steinmart, Harris Teeter, Yobe)
Parks & Attractions:
Riverland Terrace is about 10 minutes from downtown Charleston and Folly Beach.  A public boat ramp allows you to launch your boat in the Stono River.  James Island County Park offers waterfront hiking and biking trails, kayaking canoeing  and climbing walls.
SCHOOLS
There are a number of independent elementary, middle and high schools that serve the Riverland Terrace neighborhood.  The zoned elementary school is Murray Lasaine and the zoned high school is James Island Charter High.
[schoolsearch location_title="Riverland Terrace" lat="32.762804″ lng="-79.995811″ distance="3″ groupby="gradelevel" output="table"]
If you would like a list of homes currently available in the Riverland Terrace Neighborhood fill out my "Free List of Homes by Email" form or view all the homes available in Riverland Terrace below!
RIVERLAND TERRACE HOMES FOR SALE
[spatialmatch_map id=74 width=100% height=600]