Request to URL: "http://api.education.com/service/service.php?sn=sf&f=schoolSearch&key=65f5fef47d17f7562c88128cae993b11&resf=xml&distance=3&latitude=32.796835&longitude=-79.955106" failed. Response code: 500
Hampton Park Terrace is a quiet, residential neighborhood located in the northwest corner of Charleston.   The traditional boundaries of Hampton Park Terrace are the Citadel on the West, the north by Hampton Park, the east by Rutledge Ave., and the south by Congress St.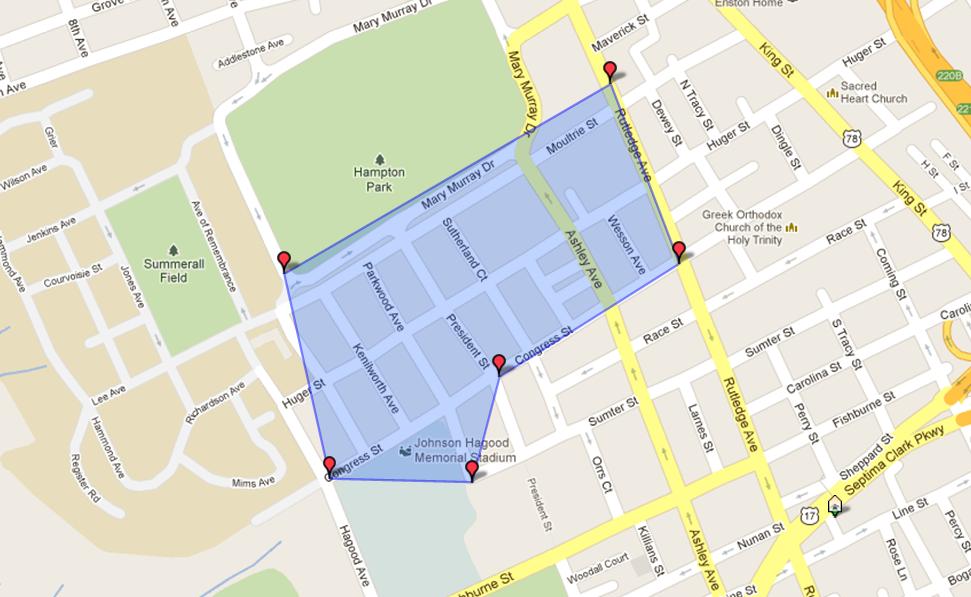 Most of the housing in the neighborhood was constructed between 1912 and 1925.  The architecture of the neighborhood typically trends towards one of these styles: Prairie, Foursquare, Colonial Revival, Craftsman, and Bungalow, which gives it a distinct look in comparison to the typical historic Charleston areas.  The neighborhood (other than the northeasternmost block) was added to the National Register on September 26, 1997.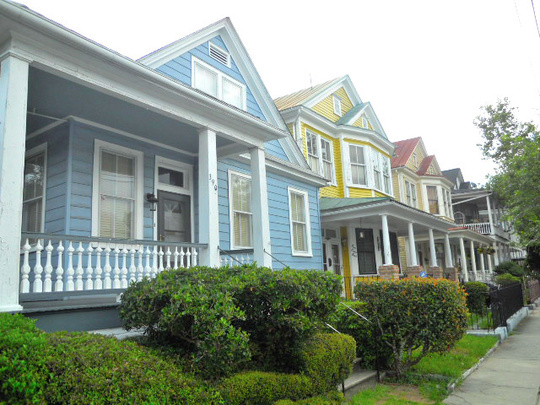 People consider Hampton Park Terrace a cool neighborhood because of its proximity to Downtown Charleston (5 minute drive), its wonderful residents and it's relative affordability.  Living in the area allows you to be close to everything.
LIVE (Home prices & proximity to everyday conveniences)
Homes:
Hampton Park Terrace offers great opportunities for buyers interested in renovating older homes or who are looking for a recently renovated home close to Downtown Charleston. Homes in Hampton Park Terrace are priced anywhere from the $180,000's for a fixer upper to over $470,000 for a completely renovated home!
Grocery Stores:
Five Star Deli & Grocery – 0.2 mi
Piggly Wiggly – 1.5 mi
Harris Teeter – 2.8 mi
Gas Stations:
Circle K – 0.5 mi
Exxon- 1.5 mi
Dry Cleaning:
Arrow Dry Cleaners – 0.8 mi
Post Office:
US Post Office – 0.4 mi
WORK (proximity to business centers, job locations, etc.)
Hampton Park Terrace is convenient to all locations:
Downtown Charleston is 0.5 mi (You're pretty much almost there!)
Mt.Pleasant – 6.4 mi (approx. 14 min)
West Ashley – 3.8 mi (approx. 8 min)
North Charleston – 5 mi (approx. 11 min)
Summerville – 24.4 mi (approx. 31 min)
PLAY (neighborhood restaurants, shopping and recreation)
Restaurants:
Hampton Park Terrace has the convenience of being within biking distance of everything downtown Charleston has to offer.  Upper King continues to develop bringing more entertainment options within walking distance of the neighborhood.
Butcher & Bee – Honest to goodness sandwiches.  Lovingly crafted and tasty!
Trattoria Lucca – Offering true Italian dining, inspired the ancient Tuscan city of Lucca.  Chef Ken Vedrinski treats guests to an authentic Italian family meal.
Sugar Bakeshop – Names Best of the Bakeshops by Bon Appetit Magazine!  Need I say more?
Barsa Lounge & Bar – Spanish tapas restaurant serving paella's that you can share!
Shopping:
The King Street retail area is a mile or so away.  You can always head over to West Ashley, Mount Pleasant or North Charleston to do some shopping as well.  The point is, you're pretty centrally located.
Parks & Attractions:
Hampton Park
The Citadel
SCHOOLS
The neighborhood is zoned for Charleston's metro public school System.  There are also a number of private schools that you can send your child to.

There are no schools within 3 miles radius of this location.
If you would like a list of homes currently available in the Hampton Park Terrace Neighborhood fill out my "Free List of Homes by Email" form or view all the homes available in Hampton Park Terrace below!
HAMPTON PARK TERRACE HOMES FOR SALE