The Cannonborough-Elliotborough neighborhood is located on the Charleston Peninsula and can be easily found just south of the Crosstown Expressway as you enter Charleston from West Ashley.  The area is bounded on the south side by Bee Street and Morris St., the east by Meeting St., the North by Highway 17 and the West by President St.  One thing that you will notice while driving along the Crosstown is that some of the properties look a little weathered, but do not let the condition of the homes fool you!  Spend some time here and you will be surprised by how vibrant and diverse this area is.  The neighborhood is home to a very diverse resident mix, everyone from college students and professors attending and working at the College of Charleston, to young professionals, families, blue-collar workers, artists and chefs make the Cannonborough-Elliotborough neighborhood their home.  The area is currently experiencing a community backed and city backed neighborhood revitalization fueled by new restaurants and businesses springing up in the Spring St. and Cannon st. corridor.  Along those two streets you will find award winning restaurants, local bakeries, clothing stores and small boutiques.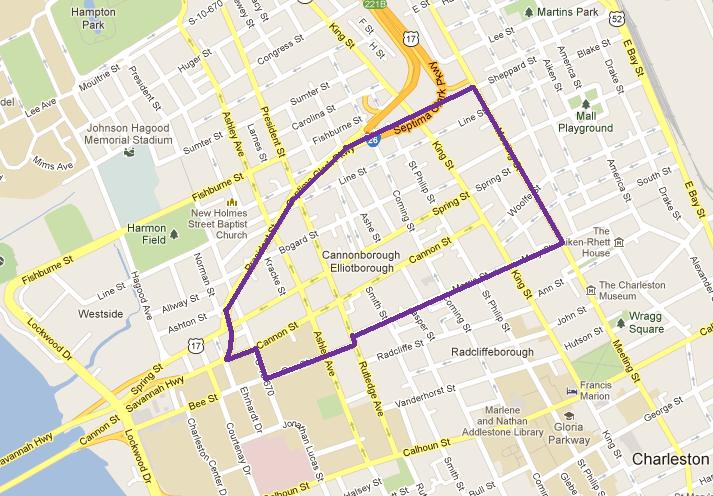 The two borough's feature a mix of old and new buildings, including Charleston singles, multi-family homes, and condominiums.  One thing that you will notice is the amount of corner stores in the area, which bring residents together and offer a convenience not found in traditional neighborhoods in the suburbs.  You will also notice some of Charleston's more elaborate residential Victorian architecture mixed in with commercial properties.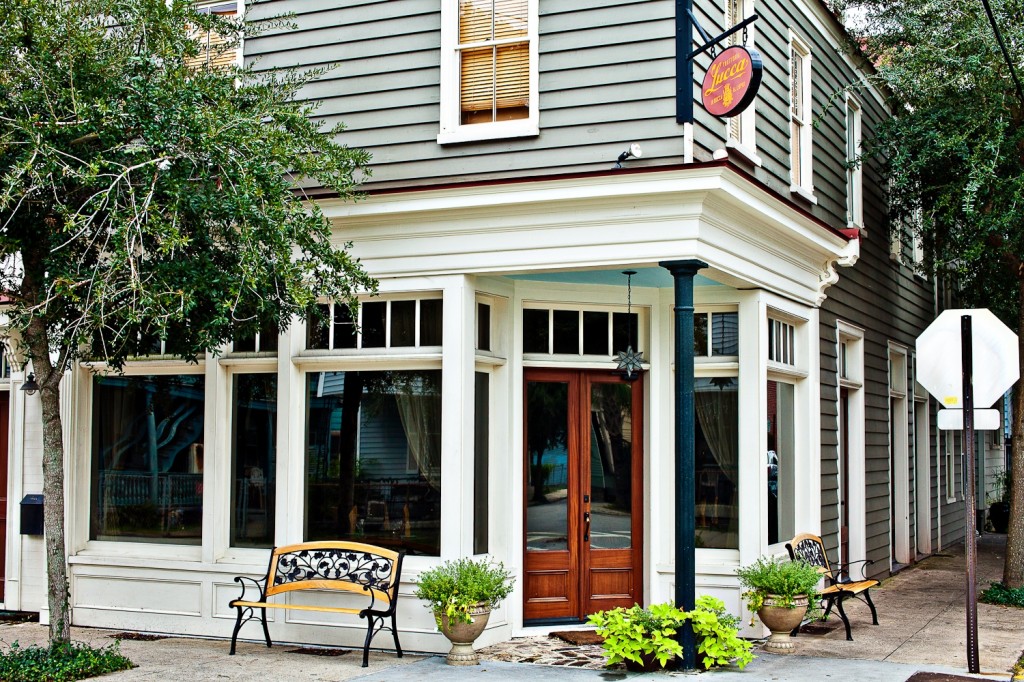 LIVE (Home prices & proximity to everyday conveniences)
Homes:
Both boroughs offer great opportunities for homebuyers, whether first time, looking to buy and then rent, or those interested in renovating a historic Charleston peninsular home.  Homes in the Cannonborough-Elliotborough community are priced anywhere from the $150,000's to over $1,500,000.  Check out the Cannonborough-Elliotborough Neighborhood Association webpage for more information on this community.
Grocery Stores:
Coming Street Grocery
Piggly Wiggly – 0.6 mi
Harris Teeter – 1.9 mi
Gas Stations:
BP Gasoline – 0.7 mi
Exxon – 0.7 mi
Dry Cleaning:
Arrow Dry Cleaners and Laundry – 0.9 mi
Post Office:
MUSC Postal Service Center – 0.6 mi
US Post Office – 0.9 mi
WORK (proximity to business centers, job locations, etc.)
Downtown Charleston – 1 mi
North Charleston – 5.7 mi – (approx. 13 min)
West Ashley – 3 mi – (approx. 8 min)
Summerville – 24.6 mi – (approx. 28 min)
Mt. Pleasant – 6.2 mi – (approx. 10 min)
PLAY (neighborhood restaurants, shopping and recreation)
Restaurants:
Five Loaves Cafe – Not your typical soup & sandwich place.  This is a gourmet eatery!  Grass fed beef, free range chicken and local ingredients are what you'll find here.
Trattoria Lucca – Offering true Italian dining, inspired the ancient Tuscan city of Lucca.  Chef Ken Vedrinski treats guests to an authentic Italian family meal.
Sugar Bakeshop – Names Best of the Bakeshops by Bon Appetit Magazine!  Need I say more?
D'Allesandro's – Local Beers, Pizza, trivia nights.
Bon Banh Mi – Vietnamese Sandwiches!
Lana Restaurant – Chef Ondo, born and raised in Charleston offers New American/Italian fare.
Hominy Grill – Sunday Brunch is not complete unless you go to Hominy.
Shopping:
Continuum Skateshop – Local skateshop for a growing number of people in the neighborhood who use a skateboard to get around town.
Upper King St. – Everything you will ever need can be found here.
Parks & Attractions:
Hampton Park is located just over a mile away.  The majority of residents in this neighborhood enjoy that Upper King St. or Downtown Charleston is just a walk away.
SCHOOLS
The neighborhood is zoned for Charleston's metro public school system.  In addition, there are a number of independent elementary, middle, and high schools within a few miles.  Notables include Ashley Hall, a K-12 college preparatory school for girls, and Porter Gaud, a K-12 college preparatory school for both girls and boys.
[schoolsearch location_title="Cannonborough-Elliotborough" lat="32.791243″ lng="-79.945879″ distance="3″ groupby="gradelevel" output="table"]
If you would like a list of homes currently available in the Cannonborough-Elliotborough Neighborhood fill out my "Free List of Homes by Email" form or view all the homes available in Cannonborough-Elliotborough below!
CANNONBOROUGH-ELLIOTBOROUGH HOMES FOR SALE
Sorry we are experiencing system issues. Please try again.