The Ansonborough neighborhood is conveniently located in Downtown Charleston.  Known as Charles Town's first suburb, the neighborhood takes its name from George Anson, a naval captain who patrolled the waters of South Carolina to protect the region from pirates.  With the pirate threat completely under control, Ansonborough is now one of the most sought after neighborhoods in Charleston.  Close to shopping, water front parks, the Gaillard Auditorium and the Aquarium, this charming neighborhood offers unparalleled access to everything Charleston has to offer while still retaining a neighborhood feel.    Ansonborough's boundaries are George St. to the North, Pinckney St. to the South, East Bay St. to the East, and Meeting St. to the West.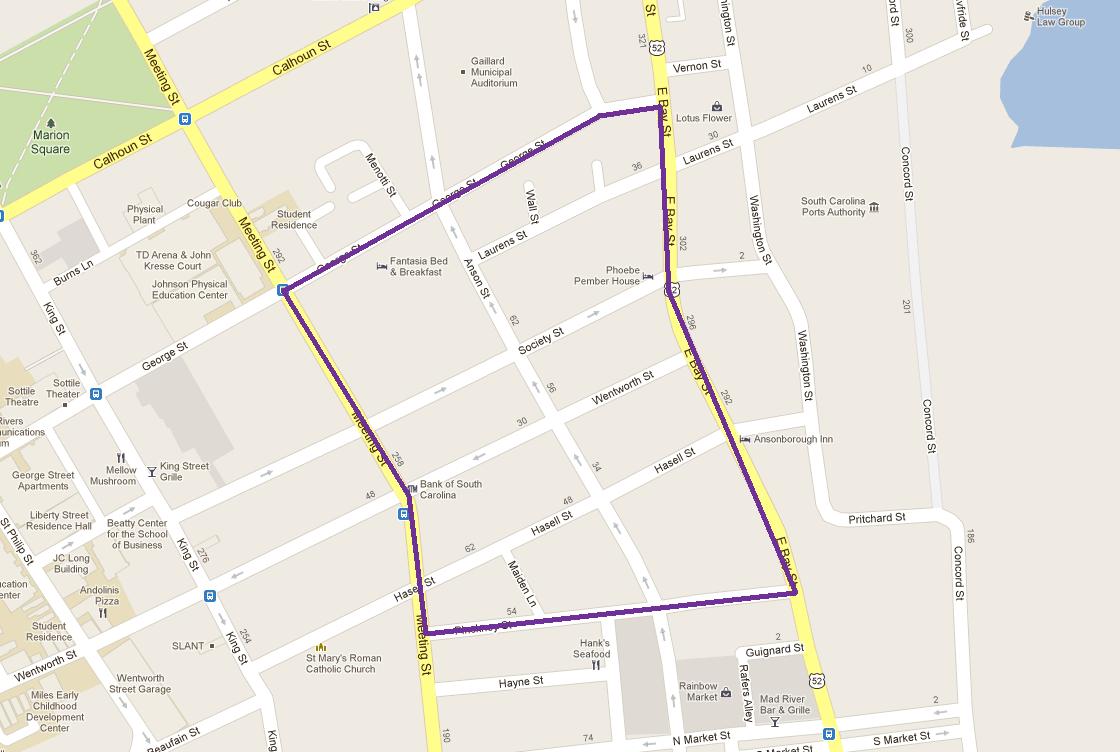 In the 1960's, Ansonborough was nationally-recognized as a model for historic preservation and rehabilitation.  It has maintained that distinction to this day.  Walk through the old suburb and you will notice beautiful walled lots with landscaped gardens and 18th and 19th century single and double houses built in Greek revival  and Georgian styles.  Town, carriage houses and condominiums are also common.
LIVE (Home prices & proximity to everyday conveniences)
Homes:
Many of the homes in Ansonborough are made of brick, built after a fire ravaged the original homes in 1838 and range from $550,000 to $2,500,000.  The fire spared the Rhett House which is the oldest private home dating back to 1712.  You will also find a good selection of condos on the Harbor, starting at $350,000
Grocery Stores:
Harris Teeter – 0.1 mi
Ted's Butcherblock– 0.3 mi – Good ol' neighborhood butcher shop, plus much more!
King St. Grocery – 0.5 mi – best Mom & Pop grocery in the south!
Gas Stations:
BP – 0.8 mi
Circle K – 0.3 mi
Exxon – 0.8 mi
Dry Cleaning:
Arrow Dry Cleaners – 0.3 mi
East Bay Cleaners – 0.4 mi
Lyerlys Cleaners – 3.2 mi
Post Office:
US Post Office – 0.5 mi
WORK (proximity to business centers, job locations, etc.)
Ansonborough is convenient to all locations:
Downtown Charleston is 0 mi (You're already there!)
Mt.Pleasant – 6.1 mi (approx. 12 min)
West Ashley – 5.1 mi (approx. 13 min)
North Charleston – 6.5 mi (approx. 12 min)
Summerville – 25.4 mi (approx. 32 min)
PLAY (neighborhood restaurants, shopping and recreation)
Restaurants:
Some of the best restaurants Charleston has to offer are within walking distance of the Ansonborough neighborhood.
Cru Café –  Home of Charleston's best gourmet comfort food located in a classic 18th century Charleston single-style home
Anson Restaurant – A contemporary restaurant that offers seafood and meat!
Hank's Seafood – Well-known for fresh catch and shellfish dishes
FIG – An acronym for "Food is Good".  It should really be "Food is Great!" – serving seasonally inspired cuisine
Jestine's Kitchen – Southern/Soul restaurant so good, they don't even have a website
Shopping:
The King St. retail area is walking distance as well as the Market area if you just felt like finding a trinket.
Parks & Attractions:
Marion Square
South Carolina Aquarium
SCHOOLS
There are a number of independent elementary, middle and high schools that serve the Ansonborough neighborhood.
[schoolsearch location_title="Ansonborough" lat="32.783973″ lng="-79.930311″ distance="3″ groupby="gradelevel" output="table"]
If you would like a list of homes currently available in the Ansonborough Neighborhood fill out my "Free List of Homes by Email" form or view all the homes available in Ansonborough below!
ANSONBOROUGH HOMES FOR SALE
Sorry we are experiencing system issues. Please try again.