Known to Charleston locals as "the Edge of America", Folly Beach is home to numerous surf spots, the most popular being the Washout, 10th Street and the Folly Beach Pier. Despite its usually calm conditions, Folly Beach has gained prominence as one of the more popular surf spots along the East Coast. Folly Beach is an eclectic beach community with surf shops, restaurants, gift shops, offices, and bars along Center Street; the main road and gateway to the community.  Located just 8 miles south of Downtown Charleston, this beach city is perfect for those seeking a different kind of Live/Work, but mostly Play neighborhood.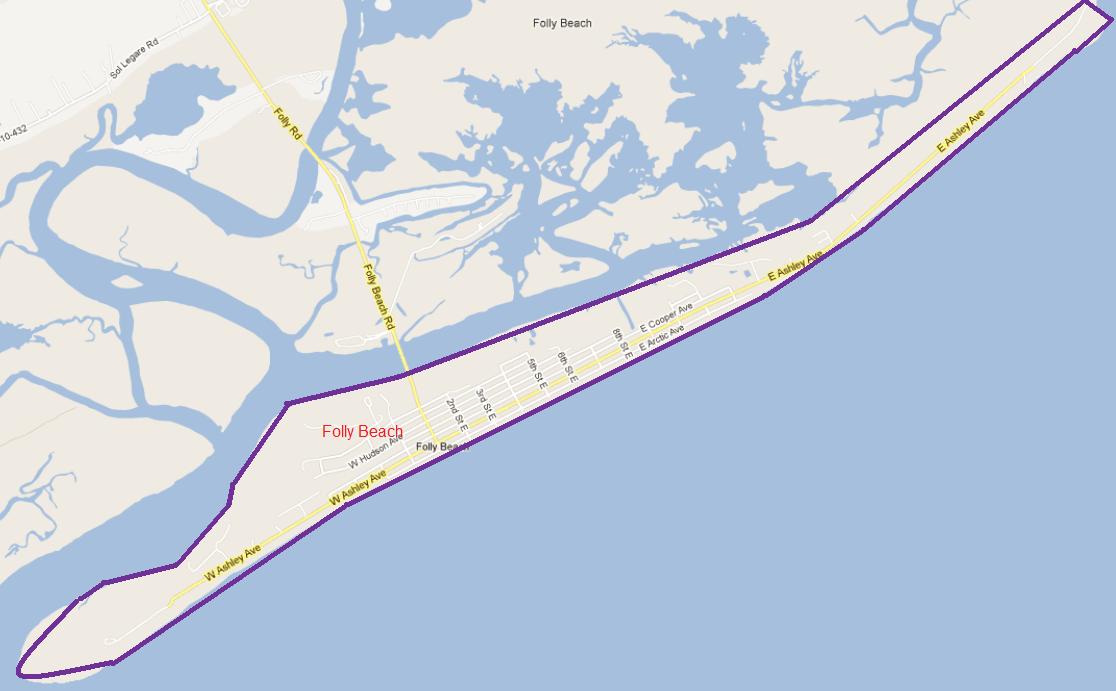 Beach front homes and homes within walking distance of the beach range from $550,000 to $2,500,000.  If your dream is to own a beach house, but you have a limited budget, then this neighborhood would be for you!

LIVE (Home prices & proximity to everyday conveniences)
Here is a list of the many restaurants that I have personally visited and love:
Drop In Deli – Sandwiches, soups, salads and desserts, with beach delivery year round!
Taco Boy – The Tempura Shrimp Taco and the Carne Asada Taco are amazing.
Rita's – Seafood, Sandwiches, Burgers and Chicken.  A chill place to eat and listen to some live music.
A Piggly Wiggly grocery store is located 3 minutes away.
20 minutes away from upscale shopping in Downtown Charleston's King St. commercial district
26 minutes to Citadel Mall in West Ashley
27 minutes to Costco in West Ashley
WORK (proximity to business centers, job locations, etc.)
Located 20 minutes from downtown Charleston, Folly Beach is the ultimate vacation area that's easily accessible to wherever you work.
25-30 minutes to North Charleston
25 minutes to West Ashley
30 minutes to Mt. Pleasant
PLAY (neighborhood restaurants, shopping and recreation)
Take advantage of the year-round surfing, swimming or fishing at Folly Beach.  Walk the 1,045-foot Edwin S. Taylor Fishing Pier and enjoy the ocean breezes year round!
SCHOOLS
Residents of Folly Beach send their children to the following public schools:
James Island Elementary School – 1872 Grimball Road Charleston, SC 29412
James Island Middle School – 1484 Camp Road Charleston, SC 29412
James Island Charter High School – 1000 Ft. Johnson Road Charleston, SC 29412
FOLLY BEACH HOMES FOR SALE
Sorry we are experiencing system issues. Please try again.
FOLLY BEACH HOMES FOR SALE BY PRICE
Folly Beach Homes For Sale up to $250,000
Folly Beach Homes For Sale $250,000 – $500,000
Folly Beach Homes For Sale $500,000 – $1,000,000
Folly Beach Homes For Sale $1,000,000+